Public Health & Safety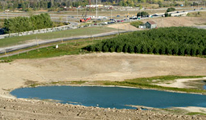 Waste Management's Health and Safety Mission Statement commits to assuring our facilities do not adversely impact the health of the host communities in which we operate. Our facilities are operated in accordance with federal, provincial and local regulations specifically designed to protect public health and the environment from potential impacts of air pollution and water contaminations. Extensive studies support the conclusion that modern landfill facilities meet this regulatory standard of protection of the health and environment of our nearby residents or employees.
The concern communities have for the health of their citizens stems from the legacy of old waste sites, which operated before the implementation of stringent federal and provincial standards for municipal waste landfills.
Ongoing monitoring of air, ground water and surface water is conducted to ensure that our facility is operating as designed. Waste Management maintains pollution control devices to minimize or virtually eliminate the release of contaminants, and we are stringently regulated by the Ministry of Environment regulations.