West Carleton Environmental Centre
MINISTRY REVIEW OF AMENDED ENVIRONMENTAL ASSESSMENT
AVAILABLE FOR REVIEW AND COMMENT
February 22, 2013 - We submitted an Environmental Assessment (EA) to the Ministry of the Environment (MOE) for the construction of a new landfill footprint at WM's existing site in the City of Ottawa (the "undertaking"). Based on comments received during the initial comment period, we submitted an Amended EA to the MOE on January 21, 2013.

The MOE has prepared a Review of the Amended EA for Aboriginal communities, public and agency comment. The Review of the Amended EA does not make a decision about the EA. That decision is made by the Minister of the Environment after the comment period is over and in consideration of all submissions received.

As required under the EA Act, the Amended EA and the ministry Review will be available for review and comment from Friday February 22, 2013 to Friday March 29, 2013. The Amended EA report is available in electronic format on the Resources page of this website (http://wcec.wm.com/resources.asp) and in hard copy at locations within the local communities as noted on the Get Involved page of this website (http://wcec.wm.com/getinvolved.asp). To access the ministry Review and the Notice of Completion of ministry Review, call the Ministry of the Environment at 1-800-461-6290 or 416-314-8001 or visit the ministry's web site at:

English:
http://www.ene.gov.on.ca/environment/en/industry/assessment_and_approvals/environmental_assessments/projects/STDPROD_082900.html

French:
http://www.ene.gov.on.ca/environment/fr/industry/assessment_and_approvals/environmental_assessments/projects/STDPROD_083415.html

Send written comments no later than March 29, 2013 to:

Director
Environmental Approvals Branch
Ministry of the Environment
2 St. Clair Avenue West, Floor 12A
Toronto, ON M4V 1L5
Attention: Charlene Cressman, Special Project Officer
E-mail: Charlene.Cressman@ontario.ca
Phone: 416-314-7222/1-800-461-6290
Fax: 416-314-7774

A copy of all comments will be forwarded to the proponent by the Ministry for their consideration.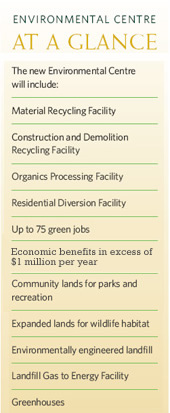 Welcome to the West Carleton Environmental Centre. Waste Management is proposing a new, integrated multi-purpose waste management facility to serve the City of Ottawa and the surrounding communities.

The West Carleton Environmental Centre will focus on waste diversion, diverting as much waste as possible away from disposal to reuse and recycling for purposes. It will also include additional lands set aside for community recreational purposes and wildlife habitat as well as a state-of-the-art, environmentally engineered landfill for the disposal of residual waste while generating clean renewable energy.
Waste Management has a strong commitment to the City of Ottawa, its immediate neighbours and the surrounding communities. This commitment extends beyond just meeting regulatory standards to being responsible environmental steward and engaged corporate citizen.
Learn more about the West Carleton Environmental Centre
Click here to watch our video.
Click here to look at an artist rendering of the proposed facility.