West Carleton Environmental Centre
Waste Management is pleased to announce the Minister of the Environment's approval of the WCEC Environmental Assessment.
We would like to thank all of the stakeholders for their participation and input throughout the EA process, including our neighbours, the community, City and provincial officials.
The EA approval contains numerous conditions and we will address each of these conditions as we move through the next phases of the approval process.
We will undertake the technical studies and work as set out in the EA decision related to Environmental Compliance Approvals and other necessary municipal and provincial approvals.
Additional information will be posted as it becomes available.
Click here to view the Ministry of the Environment Letter of Approval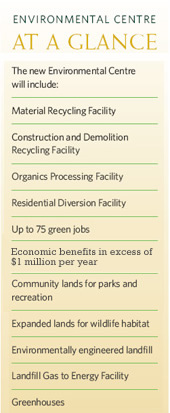 Welcome to the West Carleton Environmental Centre. Waste Management is proposing a new, integrated multi-purpose waste management facility to serve the City of Ottawa and the surrounding communities.

The West Carleton Environmental Centre will focus on waste diversion, diverting as much waste as possible away from disposal to reuse and recycling for purposes. It will also include additional lands set aside for community recreational purposes and wildlife habitat as well as a state-of-the-art, environmentally engineered landfill for the disposal of residual waste while generating clean renewable energy.
Waste Management has a strong commitment to the City of Ottawa, its immediate neighbours and the surrounding communities. This commitment extends beyond just meeting regulatory standards to being responsible environmental steward and engaged corporate citizen.
Learn more about the West Carleton Environmental Centre
Click here to watch our video.
Click here to look at an artist rendering of the proposed facility.